Designed for Professional/Industrial Applications
305 x 230 mm Work Area
USB port and Ethernet for easy setup and operation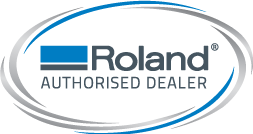 Warranty
As the world leader in desktop rotary engraving devices, Roland DG offers users unmatched product performance and reliability, backed by industry-leading service and support. The DE-3 comes with a three-year parts n' all warranty. As the world leader in desktop rotary engraving devices, DGSHAPE by Roland offers superior machine reliability, backed by the best service and support in the industry.
Roland DG's international ISO certifications are a guarantee of exceptional quality.
Discover More Applications with DE-3 Engraving
Effortlessly scribe and engrave onto a huge range of giftware, signage, trophies, tools and industrial products. Personalise brass, aluminium, copper, engraving plastic, wooden items and more, with the speed, precision and ease of the powerfully compact DE-3.
Laser Pointer
A laser pointer accurately defines the origin point and displays an engraving path preview on the media— set the engraving position at the touch-of-a-button for accurate personalisation every time.
Precision Engraving
Easily-applied nose cones can be added to the spindle unit to automatically regulate engraving depth on the media surface— avoiding scratches to delicate materials and delivering consistently precise results.
Fast and Easy Production
Powered by a 20,000 rpm DC brushless motor, the DE-3 utilises advanced surface detection and other automatic features to make set-up and engraving a quick and simple process.
Ethernet Connection
Machine operation can be managed remotely on the DE-3— offering LAN network connectivity for multiple machine engraving.
Hand-Held Control
Without the need for a computer, you can quickly select machine options such as spindle speed and one-touch machine cleaning. Engraving job data can be sent from your computer and stored in the controller after the PC is disconnected.
Bundled Accesories
Power cord, power adapter, USB cable, nose cone unit, nose unit set screw, spare set screw, Solid collet (∅ 3.175 mm), spanner wrench, hex wrench, hex driver, adhesive sheet, dust collector adapter, DGSHAPE Software Package CD, Setup Guide
Speed
Rigidity
Table Area / Dollar
Versatility
Work-Load Potential