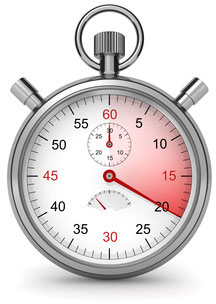 This simple exercise is designed to compare the job cycle times between different engraving machines. The file should be downloaded and engraved at exactly 100x100mm. This job should be diamond scratched, although you don't necessarily have to actually mark anything because you are just after a cycle time. Make sure you set the feedrate at 100%. Ensure all other settings are optimized for maximum speed. e.g. dwell time & z-lift. Keep in mind that some machines, Newing-Hall Apex in particular, will actually get their quickest time at 75% feedrate, so some experimentation may be required. It would be possible to cheat a little by entering zero dwell times and zero z-lift, but there's no trophy for being the fastest, so you are only kidding yourself! The job should be timed from when the tool initially goes down, not from the execute button. This will stop larger machines being handicapped by having to travel 300,400 or even 800mm to get to the start position. Timing should cease as soon as the job is complete.
You can download a DXF version here:- bench mark.dxf
You can download a PLT version here:- bench mark.plt
We beg you to take the time to do this test and return your results to us by e-mail. My goal is to get as large a collection as possible to assist people in their purchasing decision. Please include your company name, and as much information as you can provide about the model of machine, especially it's age. Thank you!
| Machine Brand & Model | Best Time (min:sec) | Feedrate/Settings |
| --- | --- | --- |
| Xenetech XOT1313 & XOT1625 | 3:00 | 100% |
| Roland EGX-600 & 400 | 5:40 | 100 mm/s |
| Newing-Hall Apex 2 450 | 6:23 | 60 mm/s |
| Roland EGX-350 | 7:09 | 60 mm/s |
| Roland DE-3 | 7:09 | 60 mm/s |
| Image Prop | 7:10 | Unknown |
| Gravograph IS300 | 7:34 | Unknown |
| Gravograph IR4 (Size reduced to fit machine) | 8:25 | Apparently Fixed? |
| Roland EGX-300 | 9:49 | 50 mm/s |
| Roland EGX-30A | 13:31 | 50 mm/s |
| Roland EGX-20 | 16:38 | 15 mm/s |
| Roland EGX-30 | 20:48 | 40 mm/s |