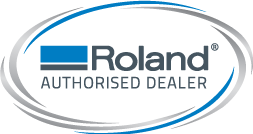 Designed for high productivity
50 percent faster than the previous model

New 50W spindle motor is upgraded with 67 percent more power

Increased maximum spindle speed of 20,000 rpm
The new EGX-350 desktop engraver is a complete, compact professional engraving solution including new Roland EngraveStudio software.
The EGX-350 quickly engraves a wide variety of materials to create beautiful indoor and outdoor custom signs, treasured mementos, and personalized gifts, awards, promotional items and apparel. For increased productivity and fast turn-around of finished items, the EGX-350 is 50 percent faster than Roland's previous model. Upgrades include a more powerful spindle motor and an increased maximum spindle speed of 20,000 rpm. The EGX-350 is designed for the highest quality engraving and has been enhanced with a new V-Carving mode that produces an attractive hand-carved look. To further ensure easy operation and quality results, the EGX-350 also includes an automatic surface detector which accurately detects the height of the material (Z-zero) for consistent engraving depth throughout the production process.*1
"The EGX-350 is remarkably easy to use and highly versatile for both traditional engraving and specialty applications," said Toshihide Yahiro, Roland DG 3D product manager. "The EGX-350 is also equipped with advanced features such as an automatic surface detector, allowing users to quickly and easily produce quality products without complicated setup procedures. With the EGX-350, users can even design templates for heat pressing rhinestones onto apparel items."
Features
High-quality engraving device for sharp, crisp text and graphics
Supports a wide variety of materials including plastics, acrylic, aluminum, stainless steel, brass and wood. Ideal for indoor and outdoor signs, and personalized gifts, awards, promotional items and apparel
Automatic surface detector ensures quality results by automatically detecting the height of the material (Z-zero) for consistent engraving depth*1
Easy-navigation control panel provides a clear view of the engraving table
Feature-rich Roland EngraveStudio™ design software included
Highly durable brushless DC motor ensures long-lasting performance with minimal maintenance
Work table surface is easy to setup
Speed
Rigidity
Table Area / Dollar
Versatility
Work-Load Potential