305 mm x 205 mm (12-inch x 8.13-inch) work area
Push button surface detecting
Quiet operation
2D Engraving software, Dr. Engrave included
EGX-30 driver for Windows(r) 95/98/Me, Windows NT(r) 4.0 and Windows(r) 2000
Rail tracking for smooth engraving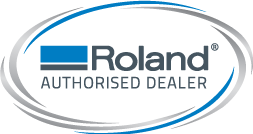 Features
The EGX-30A is an update of our most popular machine, the EGX-30. The only visible changes are an update to the current Roland DG colour scheme. Certainly this was a case of 'if it ain't broken, then don't fix it'. The now discontinued EGX-30 design has been proven time and time again over the last 10 years. (Prior to being named the EGX-30 is was called the CS-20.) The EGX-30 has always been a popular choice as it has the perfect ratio of engraving area, engraving quality & impeccable reliability.
So what brought about the EGX-30A? The EGX-30 had one major flaw which was becoming more and more obvious. No USB! The EGX-30 had only parallel & serial connections. Both of which are now quite rare in the field. A completely new 'main board' had to be designed to add USB connectivity, and that has allowed Roland to incorporate the latest processors. So the EGX-30A is essentially an EGX-30 with an IQ boost! Roland has also taken advantage of improvements in motion control, so the EGX-30A has also been turbo charged, yielding a nice improvement in engraving speed. (+35% faster by our own benckmark test!) And last but not least, the spindle motor has been upgraded to a brushless DC type, reducing longer term maintenance.
The EGX-30A is a machine which is perfect for low production, in house engraving applications. These machines are commonly purchased by electrical contractors, and the like, whom are interested in reducing costs and increasing production by producing their own labelling. They are also common place in many manufacturing lines, like truck & trailer plants, for serializing aluminium and stainless steel ID/VIN tags. Lets not forget the many 'infant' engraving & trophy business, who have started with EGX-30's then progressed up to EGX-350's & EGX-600's as their work loads have expanded.
Compatibility
Engrave a wide variety of materials, including plastic, acrylics and even metals such as brass and aluminium.
Speed
Rigidity
Table Area / Dollar
Versatility
Work-Load Potential